In 2023 alone, Irish Tax Rebates have already obtained tax back for thousands of clients, with the average tax rebate amounting to €1,092. With so many people receiving cheques in the post for tax back, curiosity has peaked among the people of Ireland and we have seen several questions come in across social media.
The most popular question is "Can I get tax back too?" It's likely that you can. In fact, 75% of our customers have received tax back.
However if you don't apply for a tax rebate, you won't get one. Another core question that crops up a lot is "Why should I use a tax back service? Can I just go to Revenue?".
You can of course go to Revenue and issue proceedings yourself however, there are several key benefits to using a tax back service provider such as Irish Tax Rebates to do this for you.
Less stress, more success
Claiming tax back through a tax expert service like Irish Tax Rebates is simple. Fill out our 60-second authorisation form with the details required, sign it and submit –  we take care of the rest.
We will begin the proceedings to claim the tax back and send you a text to let you know if you are due a rebate. A cheque will be sent in the post to you as soon as possible.
Applying through revenue requires the completion of several different forms. Separate forms must be completed for claiming tax relief on health expenses, dental expenses, tuition fees, rent relief or claim a carer credit.
It is very easy to make an error on any of the forms that you are required to complete, as many of our clients have found, which can deter the potential amount of tax back that you could claim. It can also be confusing trying to decipher which forms you need to complete to claim tax relief on the various credits available.
Tax experts take the hassle out of applying for tax back and claiming tax relief and tend to produce more successful results than if you were to attempt to manage proceedings by yourself, as many of our own customers have found.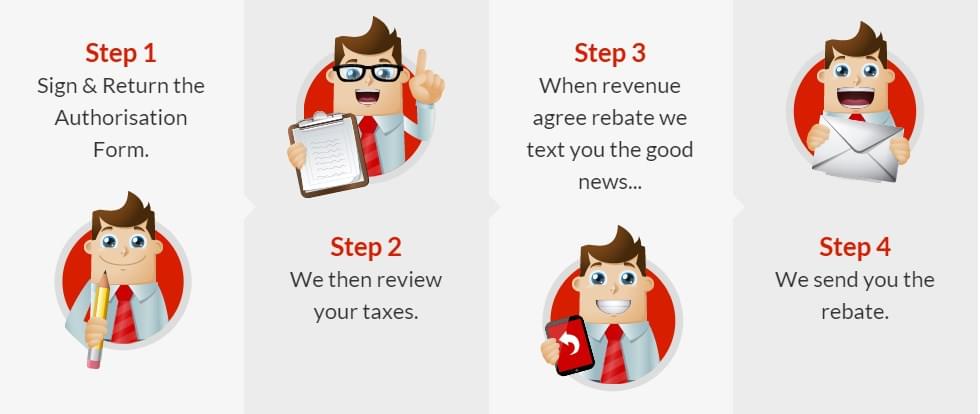 Tax experts leave no stone unturned
Tax experts like Irish Tax Rebates have got the knowledge to ensure that ALL of the tax credits that are available to you are claimed for. Many of our customers don't realise they are eligible to claim for certain tax credits and so haven't been doing so for many years.
Tax experts aim to ensure that you can claim the most sizeable tax rebate available to you. We can say ourselves that we leave no stone unturned as we consider every tax credit available and decipher whether they are applicable to you. Tax experts are thorough in their approach to applying for tax relief and claiming tax back.
If you are not due any tax back, there is no fee
With Irish Tax Rebates, the initial check is free – fees only apply to any tax back that we claim back for you. With us, no rebate simply means no fee. Some tax experts may however charge a fee just to check if you are due a tax rebate, regardless of whether you are due any money back.
We hope this post helps you to better understand the benefits of using a tax back service such as Irish Tax Rebates. For more tips and information on claiming tax back, check out our tax resources. Want Irish Tax Rebates to check if you are due tax back? Simply apply online today.